Skip to Content
The 5 Most Common Repairs at Our Baltimore Body Shop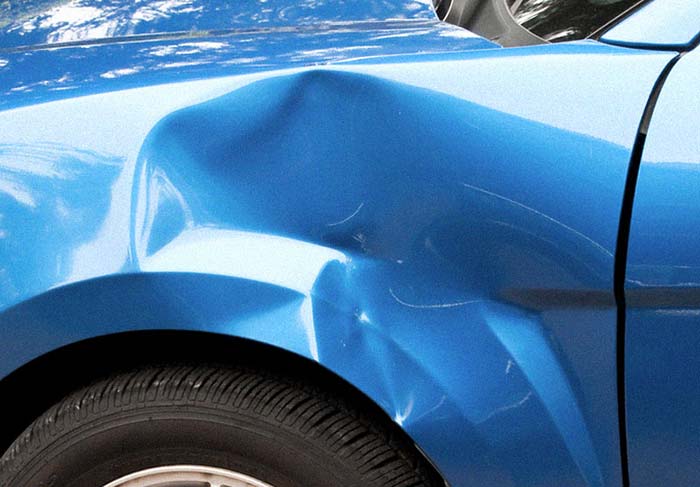 Drive on I-695 or park on the streets of Baltimore enough times, and your vehicle is bound to accumulate at least some minor wear and tear, as most Central Maryland residents are already accustomed to. Whether someone parks too close and scuffs your bumper, or a van merges too close on I-83 and scrapes the side of your car – vehicle damage is a common occurrence on Maryland roads.
Here are some of the most common repairs we perform at our Baltimore body shop!
1. Fender Repair
Fenders and bumpers are easily confused, understandably so seeing as they are both connected. Bumpers are the plastic body components that protects the front and rear of your vehicle. Fenders are the metal structure connected to them that frame the wheel well. Fender damage can result in a compromised alignment, tires and steering. Fender damage needs to be addressed right away.
2. Bumper Repair
Your vehicle's bumpers are your first line of defense, absorbing the impact from small collisions in order to prevent the rest of your vehicle's body from becoming afflicted with more substantial damage. We see plenty of cracked and scraped bumpers in our body shop, a side effect of street parking in Fells Point or Towson. It is important to take care of your bumper so that the rest of your vehicle's structure can remain protected. A damaged bumper cannot adequately absorb impact, resulting in more damage to your vehicle and potentially yourself. Please don't hesitate to repair your bumper.
3. Dent Repair
One of the most common issues we handle at our Baltimore collision center is repairing dents. A lot of dent damage occurs when the vehicle is stationary – someone could hit your vehicle while opening their door, a shopping cart could run into it or perhaps a car swerved to close on the street and cut into it. You may not even see it happen, only to return to your vehicle to find the damage. Fender benders are no fun, but the good news is that we can easily repair them for you. Time is of the essence however, many dents result in paint scratching, which can allow moisture into the frame of your vehicle, potentially resulting in rust damage. Get your vehicle to Jerry's Collision Center as soon as possible!
4. Paint Restoration
No matter how beautiful your vehicle's paint job is, if you drive it regularly, it will get scratched. It is just a fact of life. Scratches and rock chips can result in substantial damage to your vehicle if left untreated. Moisture can enter through paint damage and severely affect your vehicle's underlying sheet metal. Jerry's Collision Center is capable of matching your vehicle's exact paint code to make your vehicle's paint look like it is straight off the factory line.
5. Windshield Replacement
A cracked windshield can happen at any moment, all it takes is a pebble flung up from the roadway. It is extremely important to have windshield damage repaired immediately, as cracks can worsen over time, challenging the structural integrity of the glass. Don't wait for a tragedy to happen, let us repair your windshield as soon as possible!
If your car, truck or SUV has any damage, we invite you to visit our Baltimore area collision center for a FREE repair estimate! We are convenient to Towson, Perry Hall, Parkville and Baltimore City.