Skip to Content
Paintless Dent Repair (PDR) FAQ's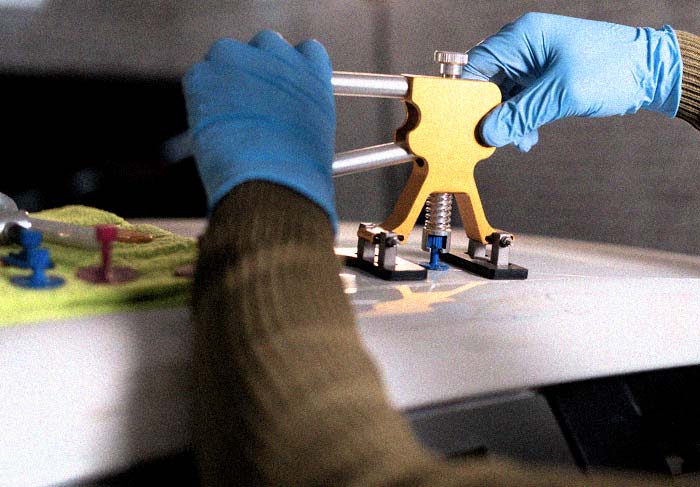 Much of the damage we witness at Jerry's Collision Center occurs at low speeds in parking lots and city streets, resulting in damage that isn't severe. If this is the case for your vehicle, paintless dent repair could be a cost-effective option. Paintless Dent Repair, or PDR, is both more affordable and quicker than traditional methods of repair, and it won't affect your vehicle's factory paint job!
PDR requires plenty of skill and machinery to perform, luckily that's what we have at Jerry's Collision Center! PDR involves diving under your vehicle's "skin" and cautiously molding the dented panels back in position. This is all done without leaving scratches or compromising the automobile's exterior finish. If your vehicle has sustained hail damage, road debris damage or a light collision, Paintless Dent Repair is for you!
We field questions about paintless dent repair all of the time, so we took the time to compile the most frequently asked questions for you to consult!
Q: When is PDR Right for My Vehicle?
A: If you have been in a serious high-speed collision, paintless dent repair is not for you. PDR is designed for minor damage your vehicle may accumulate, especially when the paint itself wasn't damaged by the accident. Hail damage, falling branches or a stray baseball hitting your car is what PDR was designed for. If your vehicle has subtle paint damage, we have the ability to color match the exact factory paint code to ensure your vehicle looks as good as it did pre-collision.
Q: Will PDR Help Retain My Vehicle's Market Value?
A: It sure will! Compared to traditional repair methods involving filler and repainting damages, PDR will maintain your vehicle's value better. The paint's original finish is never altered while our skilled technicians perform PDR with specialized machinery and technique. The concerns for overspray or slight paint color differentials are also eliminated. If you plan on selling your vehicle soon, PDR is an excellent option to pursue, if feasible for the damage sustained.
Q: Why Should I Attend to Scratches, Dents and Other Damage as Soon as Possible?
A: Ignoring scratches and dents will not only detract from your vehicle's aesthetic, but they will also contribute to your vehicle's loss of value and structural competency. These vehicular wounds can result in rust and further corrosion to your vehicle.
Q: Is PDR Time Consuming?
A: No, Paintless Dent Repair is a fairly expedient process, taking far less time to perform than conventional automotive body work. PDR will have you back on the road far quicker. Most PDR jobs our collision center performs are completed within a day or two.
Q: Is PDR more Expensive than Conventional Auto Body Work?
A: No, PDR is a quicker than conventional body repair, which results in lower labor costs! Savings continue with the lack of materials needed such as body filler, primer and paint. Since the process takes less time than standard repairs, you'll spend less time and money on a rental vehicle as well!
Q: How Environmentally-Friendly is PDR?
A: PDR doesn't produce and pollution, because it doesn't involve any repair materials such as body filler or auto paint thinner. Paintless Dent Removal is an eco-friendly repair method.
Q: Will PDR Remove Dents 100%?
A: For most minor dents, the answer is yes. Deeper dents are tougher to repair, but that doesn't mean PDR cannot fix them as well. Our customers are more than satisfied with PDR results on larger dents. Our technicians will converse with you about the best option for repairing your vehicle.
Q: Will Dents Return After PDR?
A: No, the results of PDR are permanent.
Q: How Does One Determine Whether PDR can Fix My Vehicle's Damage?
A: There are a few variables that must be considered. Depth and location are the two most important factors. Large shallow dents can be fixed by PDR, but small deep dents cannot, especially if the metal is too stretched or the paint is cracked. Most of the dents we encounter are the size of a golf ball. Location is the other crucial factor, dents near panel edges cannot be fixed via PDR.
Q: Does Your Shop Specialize in PDR?
A: Jerry's Collision Center is proud to specialize in PDR. We are your local Baltimore, Maryland authority on paintless dent repair!
Contact Jerry's Collision Center
Here at Jerry's Collision Center, we are your paintless dent repair specialists. To learn more about what we can do for your small dents and dings, contact us in online or at our facility at the intersection of Joppa Road and Perring Parkway, Exit 30B off the Baltimore Beltway!