Skip to Content
Collision- What to Do After an Accident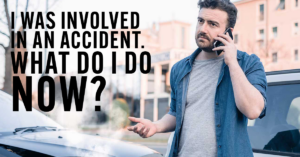 When driving the cars that we love and rely upon for transportation, there is always a statistical risk that you may end up in a car accident one day. Jerry's would like to offer some advice and guidance on the steps you should take if you, unfortunately, end up in such a circumstance one day.
Assess the Situation
The first thing you should do is assess the situation, following the following processing method.
Are you the driver hurt? Any pain or loss of mental clarity should be considered to evaluate the situation appropriately.
Are any of your passengers hurt or injured?
Is the location of your damaged vehicle in a dangerous position?
Can I exit the vehicle safely to assess the damage to your car and see if the other car's occupants require medical attention?
Call 911
After those initial thoughts and actions are completed, call 911 and alert the police of the incident, location of the accident, severity, and any injuries that may have occurred.
If you do have a police officer come to the scene, be sure to take down the officer's name, badge number, and communication method when you leave the accident. Also, try to acquire a copy of the accident report. If no officer comes to record the scene information after calling, you can still request a copy from the contacted office.
Get All the Information You Can!
After assessing the situation, for injuries, vehicle damage, and location, it's time to record those notes. It would help if you took pictures of vehicle damage and possible street signs or mile markers using your phone. Next, grab a picture of the other vehicles and their license plate numbers. And, as long as the others involved are cooperative, be sure to get greater detail on their car, with year, make, model, color, and the car's VIN. While communicating, you'd also want to get the name and contact information of the involved parties' drivers and their driving license ID number. You would preferably also want to collect similar information for anyone involved in the accident, such as the other vehicle's occupants.
There should also be a limit to what is shared, including that you should not share your Social Security number or details regarding coverage limits on your current insurance policy.
What Pictures to Take?
You want to collect as much information as possible, think about how either party's cars were possibly struck, and record data via picture, video, or even voice recordings of your findings. Be sure to see if there was any property damage in the surrounding area. You also want to fully capture the accident's date, time, location, and orientation. Was it head-on, rear-ending, coming out of a turn, at an intersection? Any information can help future claim adjusters re-create the incident.
While exchanging information, it usually is best to avoid discussions or elevate discussions to possible arguments regarding who may be at fault. For example, if you feel the other driver may be belligerent or possibly impaired, staying in your vehicle would be safer and waiting for the notified authorities to intervene if needed.
Calling for a Tow Truck
If you have determined that your vehicle is unfit to drive to a collision center, then you will have to call for a tow truck to retrieve your car. This can be done through local companies or manufacturer-provided services. However, no one tow truck or insurance company can tell you where your vehicle MUST go to. It is your choice and your choice alone. The insurance will work with you wherever your vehicle is taken to. So when your vehicle is either hoisted onto a tow lift, or you are safe to drive the vehicle with minor damage, you either plug into your GPS or inform the driver of the body shop you'd prefer.
How Jerry's Can Help
When deciding on a collision center to help after an accident, Jerry's Collision Center is here to help. Our Collision Center is I-Car Gold Class certified and a Certified Toyota Collision center to help keep your Toyota a Toyota. We can perform whatever service is needed on your vehicle after your accident with the expertise of our staff. If your accident occurs after business hours, we have an after-hours dropbox. Fill out an accompanying card with some details of your situation. Then, during the morning of the next business day, Jerry's will reach out to you to flush out the needed information to get your vehicle on the path to getting back on the road.
About Jerry's Collision Center
When you come to Jerry's, you can rest assured knowing that we genuinely care about you and will do everything to make the process as easy and pain-free as possible. Since 1957, we have been a leader in collision and auto body repair in the Baltimore area and a pioneer in customer services. For example, we take pride in our lifetime paint repair warranty and our standardized quality control processes to ensure we deliver every vehicle on time and according to the manufacturer's specifications. We also pride ourselves on being green! We help protect both our environment and our employees with our eco-friendly processes.