Skip to Content
Collision New Car Colors of 2021!
While we enjoy doing the auto body painting at Jerry's Collision Center, that doesn't mean we don't appreciate a fresh new automotive paint job off the factory line. We can only begin to imagine what design trends and technological breakthroughs will occur across the automotive landscape this next decade, but we do have the first batch of cars and trucks here before us.  We've compiled a list of our favorite new factory paint colors we see pass our Baltimore body shop on 695. Here are our top 6 in no particular order!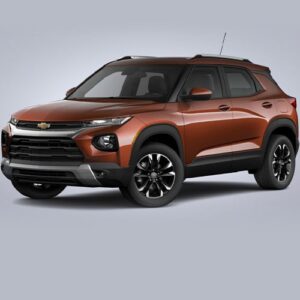 2021 Chevrolet Trailblazer / Dark Copper Metallic
With styling patterned after the larger midsize Blazer, the new Trailblazer is an attractive small SUV.  A variety of aluminum wheel designs, available trendy two-tone paint, and specific detailing for both the rugged Activ and sporty RS trim levels give buyers a wide range of choice in a handsome small SUV. – J.D. Power
We certainly agree, J.D. Power. Especially when the 2021 Chevy Trailblazer comes coated in the handsome Dark Copper Metallic paint option! You don't see bronze on too many vehicles, it really is a difficult color to pull off. The rugged, "offroady" looks of the 2021 Trailblazer are certainly complimented by this color which can be both subtle or eye catching depending on the light.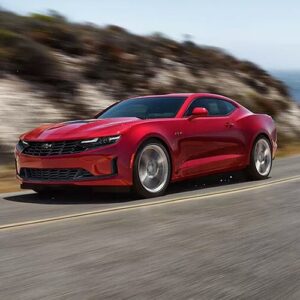 2021 Chevrolet Camaro / Wild Cherry Tintcoat
Wild Cherry Tintcoat is new to the Camaro's exterior color palette for 2021, replacing the previous Garnet Red paint option. Those who want to get the most out of the new color can choose one of two Wild Cherry Design packages…The two packages are available for both coupe and convertible models painted in the new shade of red. The only 2021 Camaros that can't be optioned with a Wild Cherry Design package appear to be the base Camaro 1LS and the 650-hp ZL1. -MotorTrend
Wild Cherry Tintcoat replaces the darker, less vibrant Garnet Red on the 2021 Chevrolet Camaro options list. We certainly think this is a change for the better. Everyone was mesmerized the first time a Chevy Camaro in this red showed up in our Baltimore, Maryland Chevrolet showroom.  It's nice Chevrolet didn't reserve this color exclusively for higher trim levels.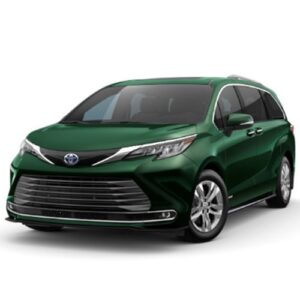 2021 Toyota Sienna / Cypress
Toyota says goodbye to frumpy with the 2021 Sienna minivan's all-new styling, and an all-hybrid lineup makes it a particularly efficient option among its rivals. The new Sienna's more stylish body, wide-mouth grille, and squinty headlamps draw inspiration from the 2020 Highlander and give the van a more SUV-like look. Inside, the Sienna receives a similarly daring makeover, but still keeps a focus on practicality and family-friendliness. Gone is last year's V-6 engine. In its place is a 2.5-liter four-cylinder plus two electric motors that make up the van's standard hybrid powertrain; all-wheel drive is still an option, and Toyota is boasting best-in-class fuel economy. – Car and Driver
What better color could there be for a hybrid than green? This dark shade of emerald is eye-catching for the simple fact alone that few other vehicles come in this color. It really is a shame, hopefully Toyota starts a trend towards more vehicles being painted green in the 2020s.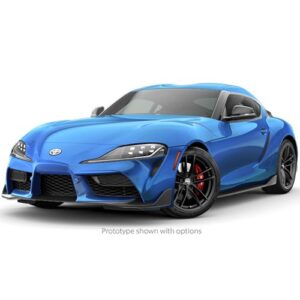 2021 Toyota Supra / Refraction
Two different turbocharged powertrains—an inline-four and an inline-six—are on offer, both of which drive the rear wheels through an eight-speed automatic transmission. We know, we know: a six-speed manual would be preferable. To be honest, this automatic does an excellent job, changing gears crisply and responding quickly to the Supra's paddle shifters. So impressed are we with the Supra, we've named it to our annual 10Best list two years in a row. -Car and Driver
Let's be honest, the 2021 Toyota Supra looks good in any color, but Toyota outdid themselves with the special color option reserved only for the top-of-the-line A91 Edition Supra. It's called "Refraction" and it's a bright, metallic, almost electric blue. It comes pared with exclusive black trim pieces and exclusive black wheels. This color Toyota Supra will be highly sought after, to be sure.
2021 Toyota Venza / Titanium Glow
The exterior of the 2021 Toyota Venza is, in a word, sleek. From some angles, it looks like it was lifted directly from Lexus, sans the large spindle-shaped grille. The proportions are more 4-door coupe than upright-SUV inspired. While the large lower grille has Toyota's familiar trapezoidal shape, the edges are rounded, giving it a softer, more elegant look. Narrow lighting elements with integrated LED running lights flank the smaller grill upper. In profile, the Venza's tapered look is accented by bright work surrounding the window openings. – Kelley Blue Book
The Toyota Venza returns after nearly a decade hiatus, this time as an exclusively hybrid crossover. It's difficult to do this color justice in pictures, but Titanium Glow is an interesting new take on neutral. It is neither silver, white nor gold. In the sunlight, it glistens like champagne. A rich and decedent color for the luxurious new 2021 Venza.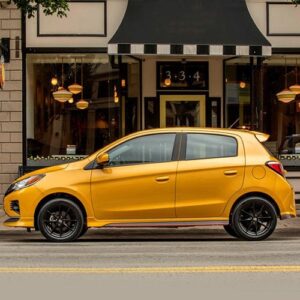 2021 Mitsubishi Mirage / Sand Yellow Metallic
The Mirage hatchback receives a light styling refresh for 2021, complete with a much larger grille, restyled front and rear bumpers, and new head- and taillight designs. A Carbonite Edition model is new this year, as well, and adds a racier-looking body kit. Mitsubishi has added automated emergency braking with pedestrian detection as standard equipment; the same goes for Apple CarPlay and Android Auto. – Car and Driver
The Mitsubishi Mirage has been redesigned for the better, complete with exciting new colors like this "Sand Yellow Metallic." It's bright and upbeat but at the same time it isn't nearly as loud as a yellow could be. Definitely our favorite shade for the 2021 Mitsubishi Mirage.
Regardless of what color, make, or age of your vehicle, we want to help its paint shine as bright as the day it rolled off the assembly line. Whether you live in Essex, Towson or Baltimore we want to be your one stop shop for all of your car paint repair needs. Jerry's Collision Center is proud to be a green auto body shop, taking every precaution we can to help protect the environment while still providing an impeccable job. We use water-borne paints, which reduce solvent fumes providing cleaner air and a healthier work environment.